NEW Brochure Holders from Stack Displays!
NEW Brochure Holders from Stack Displays!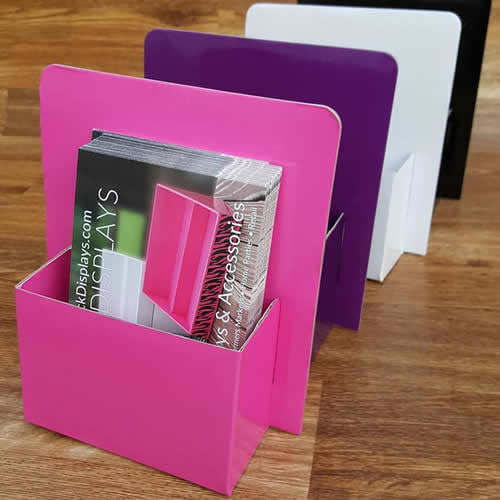 New for 2016! Brochure holders that match our Stack Displays! Sold in a 2 PACK!
Now you can easily display all of your postcards, blitz cards or brochures on your vendor table in our new matching BROCHURE HOLDERS! Lightweight, yet very sturdy and easy to transport to your events! You can also use these at home on your desk to keep your literature organized! 
The inside dimensions are 4 3/4" wide x 2" deep. Overall dimensions are 6 1/2" wide x 7" high.
Our new brochure holders were designed to be a little bigger than ordinary brochure holders to accomodate different size postcards, as well as over-sized brochures, which makes our holders more versatile. They were also designed to sit deeper, so that if used at an outdoor event, they are less likely to blow over. Use in your home office to keep your brochures or postcards organized!
Made with the same materials as our Stack Displays with our signature laminated finish, you will love how lightweight, yet sturdy these brochure holders are!
CLICK HERE TO ORDER BROCHURE HOLDERS!