Stack Displays 10,000 Facebook Fans Giveaway Contest!
Stack Displays 10,000 Facebook Fans Giveaway Contest!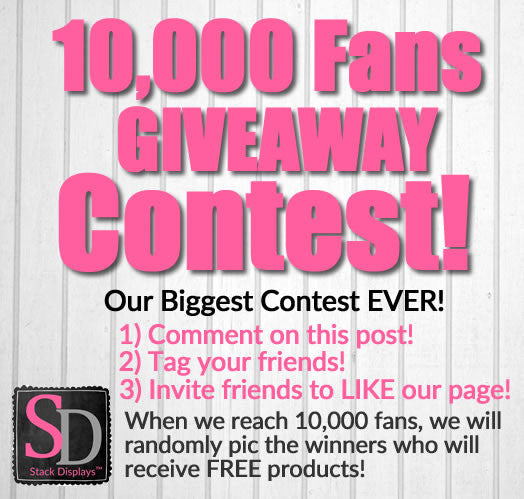 Most people know that starting a new business can be tough. VERY TOUGH! Starting a new business is more than just coming up with a great idea or a cool new product to sell. There are so many facets to getting a new business off the ground, that it can seem almost overwhelming at times!. From funding your business, building your website, sourcing or manufacturing your product line, to learning the ins and outs of social media marketing. This list really does go on and on! I think most new business owners will agree that there is more to this than anyone ever imagined! No matter how prepared you think you are, there is always something unexpected and more that needs to be done to be successful!
However, 2016 kicks off our third full year in business and we truly couldn't have done it without all of the support from our amazing customers and social media fans! It's how we built our business. We put ourselves out there and built a product we knew you would love and worked feverishly to brand ourselves and build a following. Every month we have continued to grow and we have YOU, our loyal fans and customers, to thank! Our company wouldn't be where it is today without YOU!
To show our appreciation, we are doing a 10,000 Fans Facebook Giveaway Contest! Once we reach 10,000 fans, we will randomly pick different fans who will receive FREE products from Stack Displays! We really want to take this time to show our appreciation for all of the love and support we have received over the last 3 years!  
Thank you for supporting our Small Business and for those that shop local or with other small business owners you know. It really DOES make a difference!!
If you'd like to participate in our 10,000 FB Fans Giveaway Contest, please click HERE! 
With much gratitude,
The Stack Displays Home Office Team!