Table Covers that Look Like Wood!
Table Covers that Look Like Wood!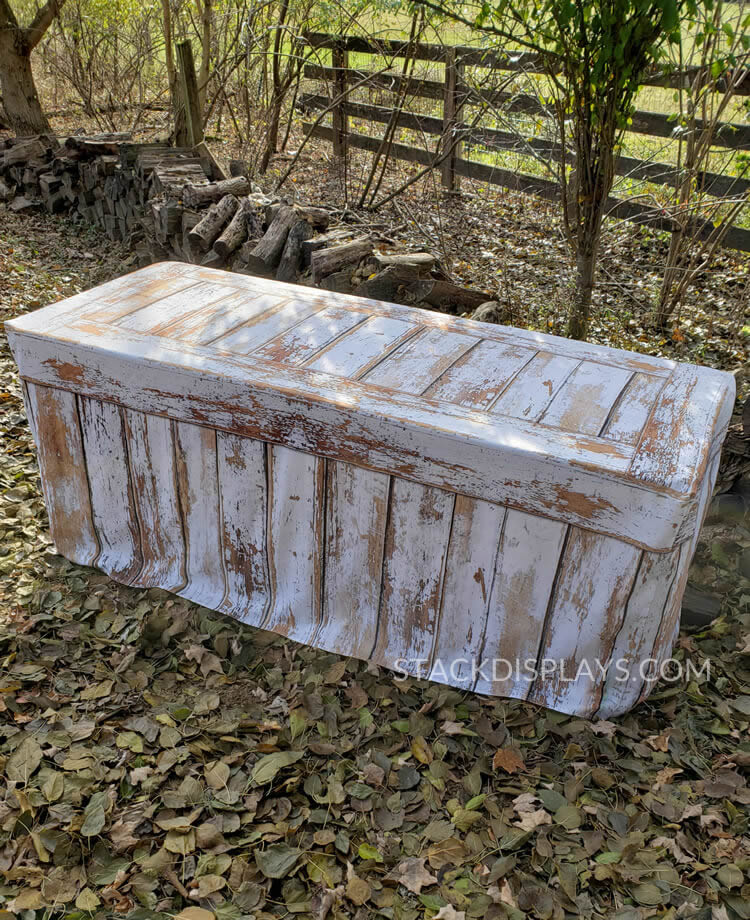 New Table Cover Designs for 2020!
Wood NEVER goes out of style. It's timeless and makes people feel warm and cozy. The nice thing is you can utilize wood in any type of decor. The trends may change, but the use of wood or things that "look like wood" will ALWAYS be popular. Natural and rustic are always in! 
Our table covers that look like wood were created to transform your boring plastic folding tables into what looks like a constructed wood crate. They aren't just wood planks printed on fabric. Each design is uniquely constructed and sewn to give your table a real wood crate look! Our customers say that people come up to their tables at vendor events, craft shows and farmer's markets to touch the table cover because they thought it was real wood!
Our fitted table covers give you that wood crate look, without having to schlep a real wood table to your event. They are made from an extremely durable and washable fabric that will truly last for years. If you have an upcoming wedding with a rustic barn wedding theme, try one of our faux wood covers on your guest registry table, cake table or gift tables. They make a great gift for the bride and groom that they will be able to use over and over in the years to come! Every time they use the table cover, they will be reminded of their special day!
No matter how you use our table covers, you can be sure that each table cover is made with love, sewn to perfection to fit your table like a glove and created with quality standards that we pride ourselves on. These are no ordinary table covers and once you see them in person, you'll see why our customers love them so much!
As we get ready to roll into 2020, we are excited to share that this will be our 7th year in business. We are a small family owned business and have quickly grown into a 7 day a week, 12 hour a day production and shipping operation to keep up with the demand of our table covers and product displays! It gets crazy at times, table covers sell out frequently, but we love what we do and look forward to another exciting year in 2020!
We are constantly asked to create other designs, but our unique wood designs will always be what we are known for! In 2020, however, we will be introducing some new designs and will be adding some new natural textures into the mix. Maybe some brick or stone. We are working on a metal design too! Do you have an idea for a new table cover? Comment here or contact us on social media and let us know your idea! We love hearing what our customers want!
We want to thank ALL of our customers for your support, your continued patronage, for the pictures you send in and the reviews you take the time to leave on our website. All of these things really do make a huge difference to a small business. 
We are beyond grateful!