tiered display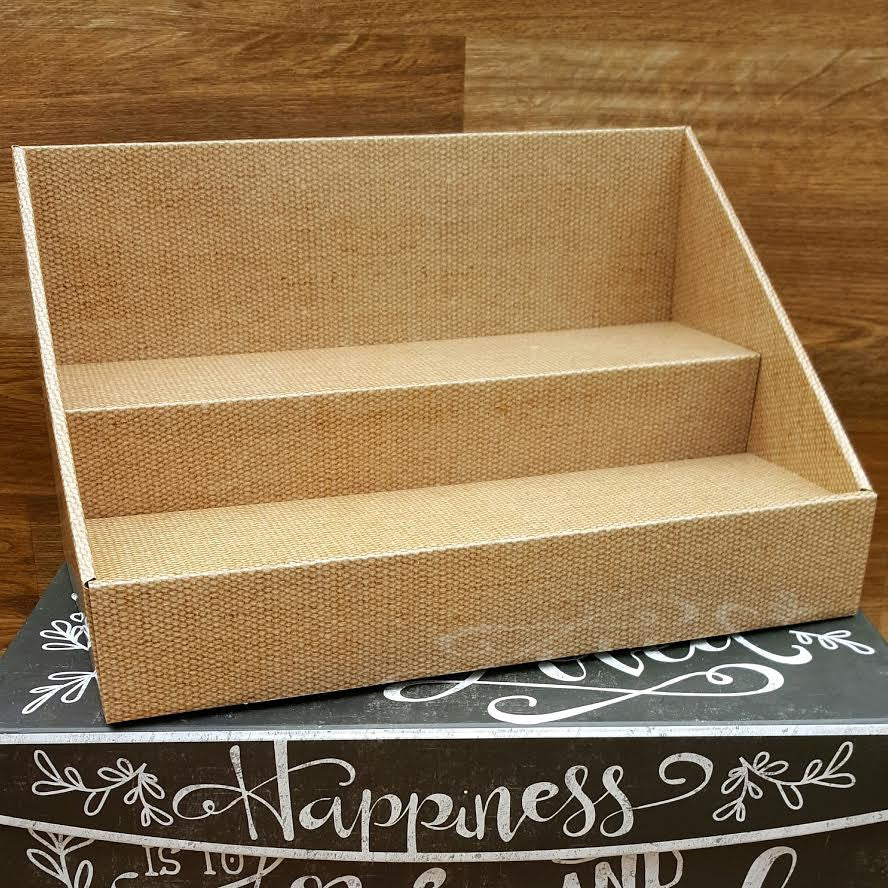 Stack Displays - New Colors Now Available! 0
Our two newest Stack Display colors have already become a hit with our customers and will continue to be available in 2017!
BURLAP DISPLAYS - We love these new versatile displays and expect them to become one of our biggest sellers! This design will be sure to give your display and products a more natural, organic feel. The natural look is definitely in, so stay on trend with these cool new displays!
Our Burlap Displays are perfect for:
Soapers - Do you make handmade soap? Our displays are great for all kinds of handcrafted items and make the perfect display for your soaps!
Homemade Bath & Body Products  - Do you create your own line line of homemade bath & body products? If you do, chances are, "all natural" is your selling point! These displays will really give your products a natural and organic feel!
Cosmetics & Makeup  - Cosmetics and makeup products fit perfectly on our displays. Its a great way to give smaller products a lift up on your table and make them stand out more!
Health & Wellness Products - Our Burlap displays will give your health and wellness products a more organic and natural feel!
Handcrafted Products & Gifts - Use our displays to make certain items you are selling stand out from the others!
Candles - Soy candles are so popular now! Give your handcrafted candles a natural looking display with our new Burlap Stack Display. Each step is 4" deep, so our displays will fit a wide range of candle sizes!
Click here to purchase our Burlap Displays
LIME GREEN DISPLAYS - These displays are extremely eye catching and will be sure to capture the attention of your customers at any vendor event! Its the perfect backdrop to any product you really want to stand out! Do you have a monthly special, something on sale or a new product? These displays will showcase your products that you really want your customers to see. 
The color of these displays is Pantone 375 C. It is NOT florescent and is a beautiful shade of true lime green!
Click here to purchase our Lime Green Displays